Is selling on Amazon worth it? Here is my Amazon seller experience to help you decide if selling on Amazon FBA is a good way for you to make extra money. Read on for my Amazon FBA review.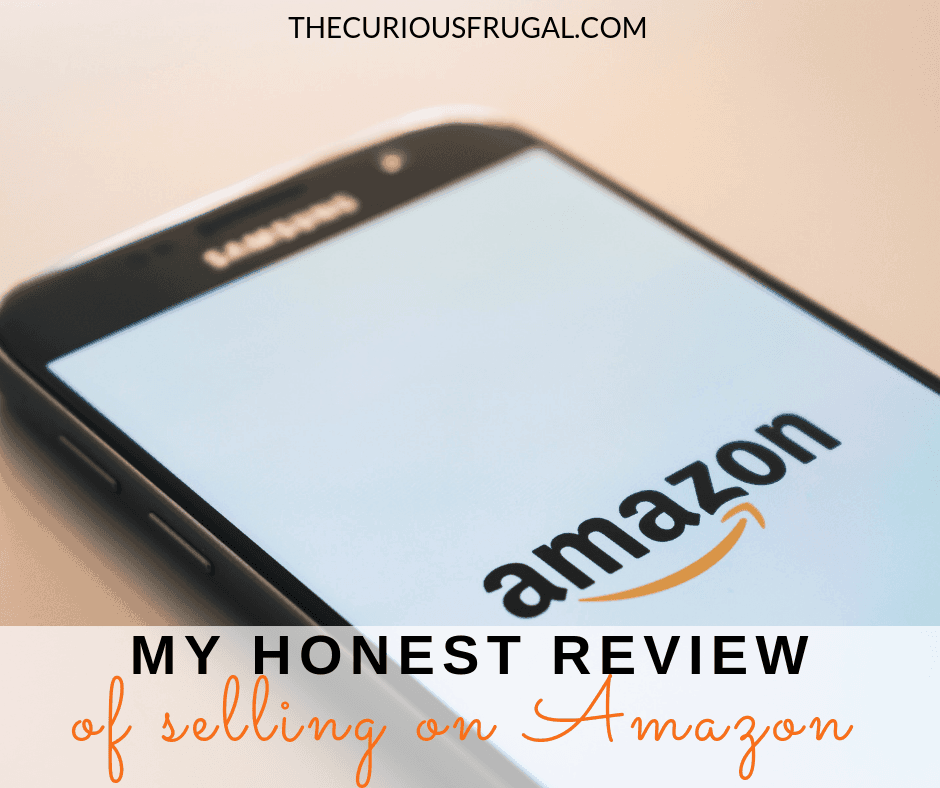 This post may contain affiliate links. Please read my disclosure for more info.
Amazon FBA Review
I love trying out different ways of making money. Over the years I have had several businesses, with my earliest one being when I was in kindergarten. I painted rocks for people's gardens and loaded them up in a red wagon to pull around and sell to neighbors. My most recent business was my bakery and catering business.
Since having my daughter, I've been working at different side hustles that are much more flexible than running a business outside of the home like a bakery.
For more on other side hustle ideas you can check out:
When I started hearing about selling on Amazon I was intrigued. This sounded like an interesting way to make extra money and I wanted to try it out. But I did wonder is selling on Amazon worth it?
Before you get started with any side hustle, it makes sense to do your research. When I was looking into it myself I read all the selling on Amazon reviews I could find!
Related reading: Best Amazon FBA Course If You're Serious about Making Money on Amazon.
If you're new to Amazon FBA, you might want to start here: How Does Amazon FBA Work: Everything You Need to Know to Run Your Business.
Let's start with some basics on how to sell on Amazon:
There are two main ways you can sell on Amazon.
You can store all the inventory and ship directly to the customer when they order one of your items. Or you can sell as an Amazon FBA seller.
FBA stands for Fulfilled By Amazon. You send shipments of your items to an Amazon warehouse. These Amazon fulfillment centers store the products for you, and ship them to the customer for you as well. They take a small storage fee and handling fee for the extra services they're doing compared to you storing and shipping directly.
I chose to sell on Amazon FBA even though you can make more money selling directly. For me it was an easy choice.
We live in a small house (850 square foot) and clutter literally stresses me out so I did not want to store a whole bunch of items before they are sold, and they are probably going to be sold one by one.
I would rather ship one large box off to Amazon and just get it out of our house.
Related reading: How to Ship Products to Amazon FBA: Ultimate Guide to Save Money and Time
Before starting to sell on Amazon, other decisions I had to make were:
Where do I want to source these items from
When it came to what to sell on Amazon I looked into a few different categories (I list all the categories below for what you can sell on Amazon FBA). My top choices were books, toys, athleisure wear, and personal care items.
At the beginning I went out on a few reconnaissance shops in stores that would carry those items. Armed with my scanning apps, I scanned away and tried to find products that were worth buying. For personal care items I couldn't find anything that people were buying that I could sell for a high enough margin for it to be worth it.
Toys and clothing I found to have too many restrictions for what I was allowed to sell without getting special permissions. There are a lot of toys and clothing that you can sell but on those first few shops, I just couldn't find anything.
Books turned out to be the easiest category for me. I was able to find some books at a decent price that would make me a profit and seemed to be in demand on Amazon. I decided to focus on books for that reason and also because storage-wise they wouldn't take up as much space as some of the other categories.
I decided to go with the easiest way for a beginner to source inventory to sell on Amazon – retail arbitrage. What retail arbitrage means is buying things from a physical store, and then selling those things (hopefully!) for a profit on Amazon.
Another way to find products to sell on Amazon is to source them from online. I tried this briefly but just couldn't find anything with decent profit margins to sell. There are absolutely products out there and some Amazon sellers make a killing from items sourced online. For me this way had a steeper learning curve and I didn't have the time to put into that method to make it successful.
A last major way to find products to sell on Amazon FBA is through private label. You would source products directly through a manufacturer or wholesaler. Private label on Amazon is the most complicated for a beginner at selling on Amazon but profit margins could be higher too. As a new seller with an already full schedule, I didn't have the time to invest in this way.
For me retail arbitrage was the perfect entry point for a beginner with limited time who wanted to sell on Amazon FBA.
Related helpful reading:
What can I sell on Amazon FBA
There are a lot of categories you can sell in as an Amazon seller without getting any kind of approval. You can set up your Amazon FBA account and start selling. There are more than 20 of these categories.
The categories where approval is not required to sell on Amazon FBA are:
Amazon Kindle
Amazon device accessories
Baby products
Books
Beauty
Camera and photo
Cell phones
Clothing and accessories
Electronics
Fashion jewelry
Health and personal care
Home and garden
Musical instruments
Office products
Outdoors
Software and computer games
Sports
Tools and home improvement
Toys and games
Video games and video game consoles
You can see that there are a ton of categories you can sell in that are easy for a new seller to get started in without an approval process.
As a new seller I stuck to picking from the categories that you don't need permission to sell.
If you get a professional account you can apply for permission to sell on Amazon in another 10+ categories.
The categories to sell on Amazon FBA that need permission are:
Video, DVD, and Blu-Ray
Sports collectibles
Shoes, handbags, and sunglasses
Personal computers
Luggage and travel accessories
Grocery and gourmet food
Automotive and power sports
Industrial and scientific
Business products
Collectible coins
Fine art
Fine jewelry
Watches
Professional services
Is selling books on Amazon worth it
In my experience selling on Amazon, yes! In a short time, working very minimally at selling, I turned a profit selling books on Amazon.
I chose to sell books on Amazon FBA because books take up less space to store than a lot of other products you can sell, there are no entry requirements or permissions needed to sell, and it's a category I'm interested in (I love books!)
You don't at all have to sell in an area of interest and this probably isn't the most important requirement when you're thinking about what to sell. Your ability to make a profit from a category is way more important. But for me and my personality I knew I would lose interest quickly if I was trying to sell in a category I didn't like shopping for (which for me was most other categories – ha!) For me selling books on Amazon was worth it.
I sold a few video games here and there because I happened to find decent ones when I was out book hunting but this was not my main area.
Related reading: How to Sell Used Items on Amazon for a Good Profit: Your Guide
Selling on Amazon fees
Amazon FBA fees will vary depending on the category of what it is you're selling. Fees will also depend on what Amazon selling plan you're on. There is an individual plan which is what I did since I wasn't planning on doing higher volume selling. There is also a professional plan.
The individual plan is better for sellers who plan on selling fewer than 40 items a month. There is no monthly fee so this is a great plan when you're starting out. You can always switch to a professional plan later as you start selling more. The monthly fee under the professional plan is $39.99.
Selling on Amazon fees for the individual plan are $0.99 per item + referral fees and variable closing fees. Selling fees under the professional plan are the referral fees and variable closing fees (without the $0.99 per item).
For more information about the fees for selling on Amazon you can check out this comprehensive guide on Amazon FBA seller fees here. It will tell you more about what you pay to sell on Amazon.
Amazon FBA recipe for success
There are a few key points that will help you succeed as an Amazon FBA seller.
Personality To Be A Successful Amazon Seller
There are a couple of personality traits that will be better suited to selling on Amazon FBA. First of all that you're not shy to scan items in stores. Second, that you like shopping.
You will be scanning lots and lots of items in stores just to find something that could be profitable enough that it's worth you buying and listing on Amazon. Most people in the store will ignore you but some people will wonder what the heck you're doing and will ask you in just those words. If you feel uncomfortable with standing out a little, this might not be the best choice for you.
For me, I can be shy in some situations AND I don't like shopping – lol. So maybe selling on Amazon wasn't the ideal side hustle for me. Know your personality because this will tell you a lot about if this business is a good fit for you.
Storage Requirements for Amazon Sellers
You will need more or less storage depending on what you want to sell. I chose to sell books on Amazon partly because I was interested in selling them more than other things and partly because they don't take up as much room as a lot of other things you could sell. Other smaller goods to sell could be makeup or other drugstore items. Toys or electronics could possibly take up more room but if you have a separate room or storage area this won't be an issue for you. Just something to think about, especially if you live in a small place like we do.
If you decide to sell on Amazon FBA like I did, you won't need to worry about storage as much because you will be shipping your goods to an Amazon warehouse for them to sell for you. But while you're in the buying inventory stage you will still need a certain amount of space to store things before you send them in to Amazon fulfillment centers.
Starting money
To start selling on Amazon, you will need some money at the beginning. You don't need to have a lot of money to start but you do need to have some to buy products. As FBA sellers, you have to buy inventory before you can sell it.
That last point is SUPER important and it's something I regret not doing. I don't think I gave selling on Amazon FBA my best shot and that's because I was doing it on my own. There are VERY experienced sellers who have already put in the time and made the mistakes so you don't have to. Only in my case, I did put in the time and I did make all the mistakes. Lol
A huge component of an Amazon FBA recipe for success would be to take an Amazon FBA Course from a really successful seller.
The next section will talk about the absolute BEST source to take an Amazon FBA Course from to set yourself up for success if you want to sell on Amazon.
The Best Amazon FBA Course
I want to introduce you to a family that are the experts on selling on Amazon. Their answer to "is selling on Amazon worth it?" would be a resounding YES!
Jessica has been making a full-time income on Amazon since 2009 and her husband joined her in 2012. The first full year they were both working on their Amazon business they net over $100,000 in PROFIT!! They're called The Selling Family and they have been teaching people online how to sell on Amazon FBA since 2012. They are making a great income (working part-time!) and they were able to pay cash for their new home! #goals
If you are serious about making money selling on Amazon, The Selling Family course is the best choice to help you do that. Their Amazon courses come with a money back guarantee so you can feel confident about your purchase.
Mistakes Using Amazon FBA
An important part of this Amazon FBA review that I don't want to leave out is the idea of mistakes. As a new seller on Amazon, you are going to make them.
If you want to have an Amazon business that makes money, make sure that you're not just relying on good luck to make sales. Use the best information from online sellers who are already making a killing on Amazon FBA.
It will save you a lot of time and prevent mistakes if you learn how to source out high quality products from other Amazon sellers. Take a look at the Amazon listings that do well. Think like a customer using Amazon (as I'm sure we all are!) You want your products to not only make you money, but make your customers happy. This will help with your star rating, and product reviews, both which will have an impact on your future Amazon sales.
Which Amazon Course Is The Best
If I was selling products as a brand new Amazon FBA seller, I would cut down on all the beginner mistakes (they're inevitable if you do it alone), and choose a high quality Amazon course.
Even though you can start selling on Amazon FBA on your own fairly quickly…
There is a BIG learning curve to selling on Amazon WELL.
That's where an Amazon course taught by successful Amazon sellers will give you all the essential FBA business information you need, in a fraction of the time it would take you to sort out on your own (I know from experience!)
If you want to know which Amazon course is the best, you need to look at who is offering it. I would absolutely take The Selling Family's Amazon Bootcamp if I wanted to be successful on Amazon FBA. They make over $100,000/year working part-time hours.
The Selling Family has had so many successful Amazon FBA course graduates. It's an affordable Amazon course (hey, frugal is in my blog name!) And like I said before, their Amazon course comes with a money back guarantee.
Amazon Seller Experience
In the end, is selling on Amazon worth it? Overall my experience selling on Amazon was a good one! A fun perk that I didn't expect was getting to know more about the ins and outs of how Amazon works, through being on the other side as a seller.
I turned a (modest) profit, and I was happy with that for the effort I put in. I was also trying two other flexible side hustles at the same time – search engine evaluation and mystery shopping. Plus working a part-time job outside of the home and also looking after my toddler. I was definitely spreading myself thin. If you treat this as a part-time or full-time job, you will be able to make more money.
Amazon FBA Review Final Thoughts: Is selling on Amazon worth it?
So in my opinion, is selling on Amazon worth it?
I would say, YES, BUT!
Yes, it could be a great side hustle and a really fun work from home job.
The BUT part is just like every job, it's not for everyone. If you're going to feel uncomfortable scanning in stores, selling on Amazon is probably not for you. If you are someone who doesn't even like shopping in the first place (my hand is up), this might not be the best pick for you.
On the other hand if you think the idea of getting paid to shop sounds awesome and you're looking for a flexible way to make extra money, this just might be your perfect business. There is FANTASTIC income potential to be had with this business. If you are interested, my advice would be to learn from the folks who have it all figured out and have a thriving Amazon FBA business already.
I hope this Amazon FBA reviewed helped you. If you are serious about selling on Amazon FBA and want to learn from the best you can find out all about The Selling Family's Amazon Boot Camp v 4.0 Video Course. It leads you through step-by-step on how to start up your Amazon FBA business. The videos are screen share and will walk you through the entire process of setting up and selling on Amazon.
⇓ Pin this Amazon FBA review to save it for later ⇓
Have you ever thought about selling on Amazon FBA? If you have tried it out already did you find selling on Amazon worth it?