If you're interested in working from home but starting up a business isn't really your thing, check out these 10 best work from home companies. They regularly hire and some of them have enviable benefit packages too!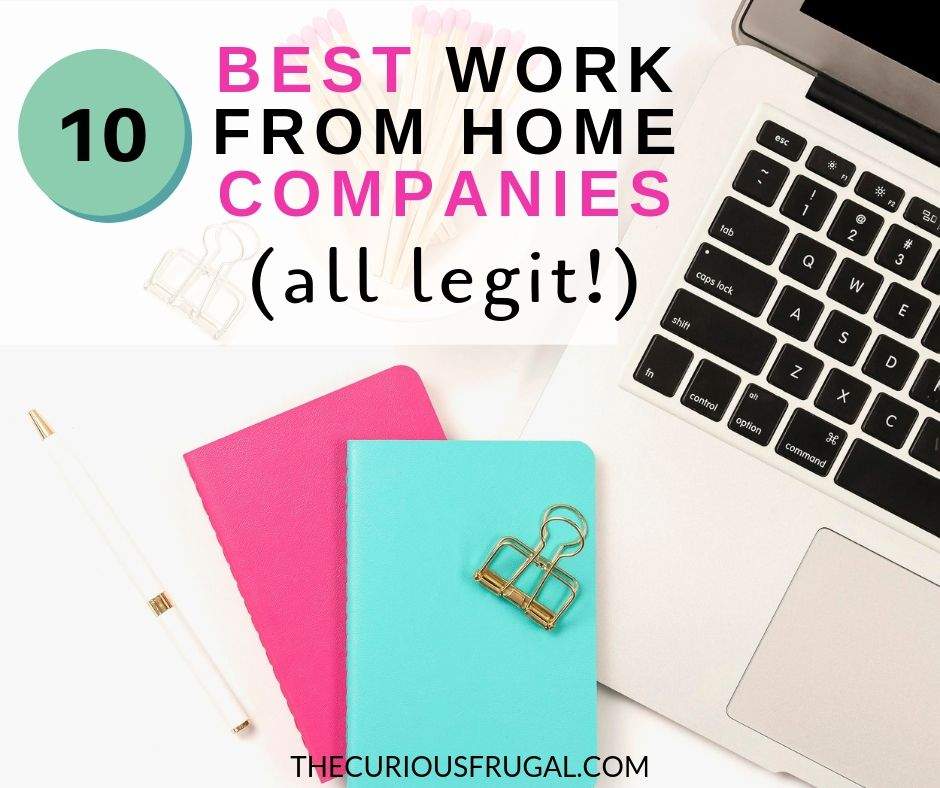 This post may contain affiliate links. Please read my disclosure for more info.
Best Work At Home Companies
A lot of people dream of being able to work from home. There are more and more online jobs and businesses that allow you to live out your dream of working in your pjs while your cat (or giant lap dog) sits curled up in your lap.
Having your commute be from your bedroom to the kitchen for a cup of coffee is pretty sweet.
For some people, starting up your own business is what would be most interesting. But not everyone wants to run their own business. As more of our world is online, there will be more online jobs and remote job possibilities.
(And hey…if you're considering joining an MLM, read this first!)
This includes working for well-known companies. Lots of companies that used to only offer in-office jobs, now have many remote job positions available.
I found 10 of the best work from home companies to share with you. Some of these have incredible benefit plans and other perks as you will see!
For tips on how to unlock your hidden talents, and find meaningful work, read this.
If you'd rather start your own business than work for someone, check out these small business ideas from home that you can start this week.
Related: Beautiful & Practical Home Office Essentials
Did you know that there are Google work from home jobs? Though most of their jobs are on their campus, you don't need to necessarily live in California to work for Google. Most often any remote jobs from Google are hired through an agency. Once in a while they turn up on Google's employment page. You can try searching for 'ads quality rater' here.
Hey busy person! I created this pretty printable to-do list that will help you get organized! Oh, and it's free! Get it here.
Wikimedia is a non-profit organization based in San Francisco and are the owners of the (very very big) project Wikipedia.
There are many interesting jobs on their careers website that can be either done in their San Fran office or remotely. Current remote jobs posted on their site when I checked were:
Email Engagement Campaign Specialist
Software Engineer
Database Architect
Chief of Talent & Culture
Communications Creative Director
And more
These are just some of the benefits they offer:
Wellness program: $1800 annually for fitness memberships, babysitting, continuing education, student loans, and more
Includes 100% paid new parent leave for seven weeks, plus an additional five weeks for pregnancy (any non-US readers, I know this doesn't sound great but this is considered very generous for mat leave right now in the US)
Time off: vacation days, sick leave, and volunteer time.
Medical benefits: Fully paid medical, dental, and vision insurance premiums for employees and their eligible families
This is one of my current side gigs. Appen (which acquired Leapforce) hires people to work from home as search engine evaluators, social media evaluators, and more (I am a search engine evaluator). There are also language jobs like transcriber, translator, and linguists. They hire a lot of people and there are tons of remote opportunities in many countries around the world. They were recognized by FlexJobs as a Top 100 Company to Watch for Remote Jobs 2014-2019, including the #1 ranking in 2017 and 2019.
Read more about my experience being a search engine rater here.
VIPKid hires people to teach English from their homes to kids in China and Korea. I am so interested in this job! My mom was a teacher and I did some substitute teaching when I lived waaaay up north and I loved it. The pay with VIPKid is great (up to $22/hour USD) and it just seems like such a fun job. Right now I'm stretched a tad thin with a few other side hustles so this one is on the bucket list jobs list (does anyone else have a bucket list for jobs? Lol)
The other thing that is holding me back on this one for now is our tiny house with doors that don't lock. That with a curious 4-year-old means practically this one isn't a great fit for me for now but I definitely want to apply in the future. I have my eye on this office chair to work from when I do!
Dell is one of the best work from home companies as ranked in the Top 10 of Forbes' Top 100 Companies for remote jobs.
There are lots of job openings for remote work at Dell – at the time I checked there were 89 remote positions from Data Engineer to User Experience Researcher and many more.
Other awesome work from home jobs:
Help Scout is a help desk software company. They are a remote first company; there are a lot more people working from home than from a headquarters. They hire many different positions, from engineer to customer support (which they call Customer Champion).
Some of the benefits they offer are:
100% health and dental insurance for you and your family
Disability insurance & life insurance
Sabbatical – After you've been at Help Scout for 4 years, you get a month of paid vacation plus $2500 to spend towards travel, learning, projects or however you'd like to spend that time
Paid parental leave, including adoption – 12 weeks of paid leave for all new parents
Personal development stipend – Up to $1,800 per year
Each employee will be provided with a Mac laptop (or equivalent equipment of choice)
Home office stipend – Every new hire gets $1000 USD to furnish their home office, and up to $350 USD per month if you'd like to rent a co-working desk somewhere.
Also check out 7 Exciting Home Business Ideas for Women to Make Money
This is a really unique work from home company and right up my alley since I love the food world and used to have a catering business. Cozymeal is a business that pairs up local consumers and companies with some of the best chefs for cooking classes, food tours and culinary team building events. Cozymeal can be used for family parties to team building events to office meal delivery, all arranged easily online.
They have remote jobs for Food Tour Business Development Managers, Freelance Writers, and Chef/Vendor Recruiters. Some positions are part-time and some are full-time. If you are a foodie, Cozymeal might be a great work from home company for you.
Nerdwallet is an American personal finance company. They offer a website and app to help people make personal financial decisions such as what is the best credit card, investing info, bank account comparisons, and credit score lookup.
Many of their positions are remote but you will have to click into each job position to see. There are positions in admin, communications, content, finance, IT, legal, marketing, product management, and more.
Their benefits package includes 100% paid medical, dental, vision, life and disability plans for you and dependents. They offer unlimited paid time off, and 100% paid parental leave.
BriteCore makes software for the insurance industry. They hire people for customer service to communications to software development and have many remote positions. You have to click on each job position to see if it's remote – it doesn't say right on the job search page but many of them are remote and you'll see that when you click.
Some of the benefits they offer:
Retirement plan with company match
Health insurance including medical, dental, and vision
Flexible schedule
Remote work
TranscribeMe is a hub for transcription jobs. Get paid to transcribe audio and video into high quality text. You don't need any experience to start so this is great if you're curious about transcription or are a beginner. Once you sign up you will be able to choose audio clips to start transcribing. These are not long interviews – they are generally short clips from 1-4 minutes long. You can work as much or as little as you want.
They recommend you have headphones for listening to the audio. It will make transcribing much easier and faster by helping you focus on the audio.
Earnings start at $15-$22 per audio hour and top monthly earnings at $2,200 (average monthly earnings are $250). Transcriptionists with specialized backgrounds in medical and legal are paid a higher rate. They pay via PayPal in USD for all the work completed on a weekly basis and you can request a payout once you've reached $20 in your account.
If you need a way to track your money, Personal Capital is the way to go! If you want future you to be in a better place financially, you have to know where you are now and this app will help. Sign up here (it's free!)
Want more ideas?
Check out 8 Surprising Ways to Make an Extra $1000/month
and 100 Best Remote Jobs You Need to Know
⇓ Pin these best work from home companies to save ⇓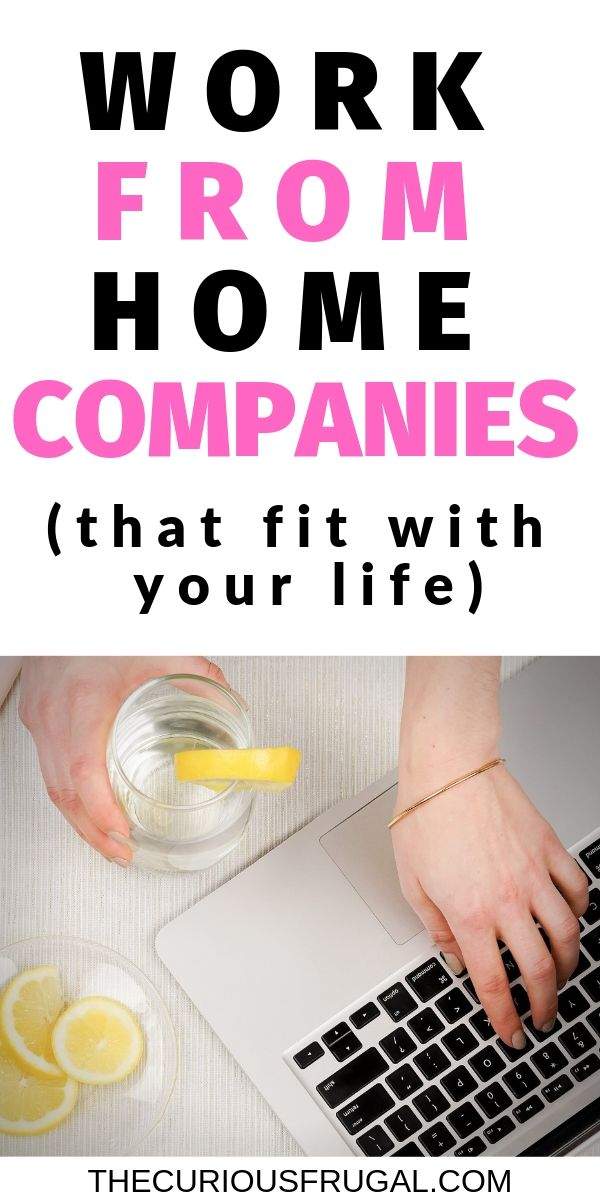 Have you heard of any other best work from home companies? Share below!