Make money from home putting your word skills to good use. These are 10 of the best websites for remote proofreading jobs that are hiring now!
Want online proofreading jobs?
With all the side hustles I have tried personally and researched for The Curious Frugal, one of the most interesting remote jobs I came across is proofreading.
Getting paid to read and edit from home sounds like a fantastic way to make money.
If you have an eye for detail, love reading, and are always catching spelling and grammar mistakes, proofreading online would be a great fit for a work-from-home job.
Related posts:
This post may contain affiliate links. Please read my disclosure for more info.
What types of remote proofreading jobs are there?
People need remote proofreaders for all kinds of jobs. Some of these proofreading jobs are:
eBooks
resumes
blog posts
social media posts
essays
court reports
research papers
books
published papers
policies
legal documents
technical guides
and many more
Related post: Proofreading Jobs from Home: 12 Best Websites to Find Them (and How to Get Them).
How to become a remote proofreader for beginners
Caitlin Pyle has a popular online course called Proofread Anywhere with over 4,800 students that are now making money proofreading.
If you're undecided still about the course, Caitlin created a free Proofreading workshop. It will give you all the basics on starting your proofreading career.
You can enroll in her FREE proofreading workshop to see if online proofreading is the right career for you.
Read my interview with Caitlin here about how to become a freelance proofreader.
Recommended tools when looking for remote proofreading jobs
This tool helps in proofreading online content. It automatically finds grammar and spelling errors, which will help you tremendously with proofreading, as well as when you apply for proofreading jobs. Try Grammarly for free here.
This handy tool helps you optimize your resume and LinkedIn profile when you are applying for a job.
It's really simple to use; you upload or paste your resume into one box, and the job description of the remote proofreading job you are applying for. Jobscan will tell you if your resume will get noticed for that job, and what improvements you can make to make your resume really stand out so you will get the job.
How much do remote proofreading jobs pay?
According to Salary.com the average proofreading salary is $52,104 per year (as per April 2020).
Proofreading salaries can go to $66,233 and up.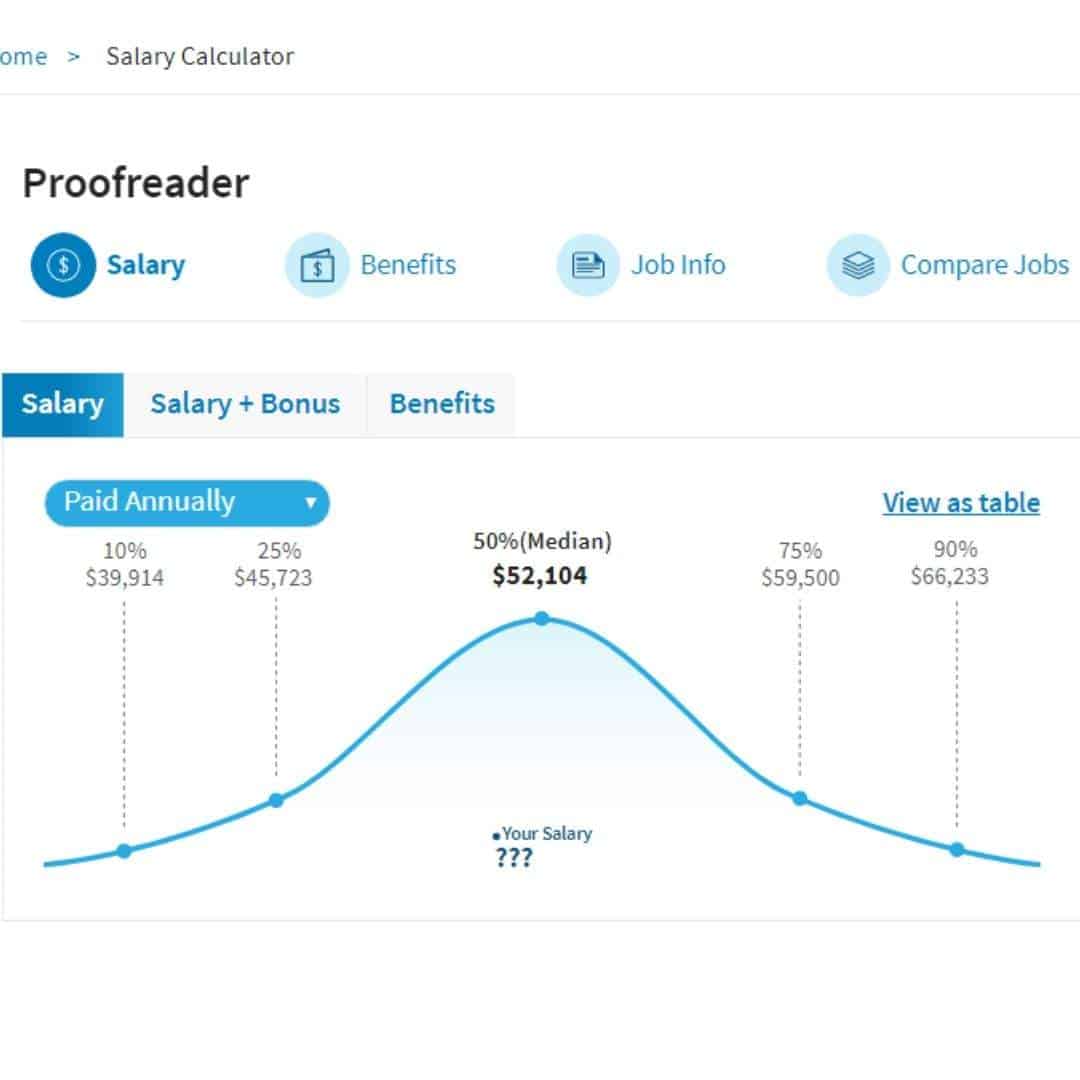 15 of the best websites for remote proofreading jobs
Did you know that Amazon hires A LOT of proofreaders?
I hadn't thought about it before but it makes sense.
What other websites have as much content as Amazon? And it has to be accurate and easy to read.
When I checked today, there were 353 open jobs in the categories of editorial, writing, & content management.
Related post: Proofreader Certification – Best Proofreading Courses and Why You Need Them
Do you know Fiverr? It's a huge site where freelancers from around the world can connect with potential clients.
Contrary to the name, you don't have to only charge $5 for your freelancing services!
I hired a graphic designer on Fiverr to redo my logo, and I love the new design! I also hired a designer to make me an infographic for a post (you can check out the infographic here) and was also super happy with the results.
You can create a profile (make it really stand out!) and have remote proofreading jobs come to you.
Scribendi hires remote proofreaders as independent contractors and offers a competitive salary.
For remote proofreading jobs at Scribendi, you need a university degree and 3 years of experience.
Scribe offers both full-time career and freelance positions. There weren't any openings today when I checked but you can subscribe to find out about their latest proofreading job postings.
You don't need to have previous proofreading experience to apply for remote proofreading jobs at Cactus, so this is a great option for beginner proofreaders.
They hire freelance proofreaders as well as offer full-time work-from-home jobs.
Cactus specializes in science and technology proofreading, so a general background in these fields is an asset.
Upwork is another large freelance connecting site, somewhat similar to Fiverr. Upwork connects freelance job postings of all kinds with job seekers.
There are ALL kinds of proofreading jobs on Upwork, from general proofreading of books and resumes, to specialized proofreading of academic works.
Today I even saw a proofreading job for a new word game app, and another proofreading job to edit a romance novel. Interesting jobs!
To be hired for the jobs at Cambridge Proofreading you need to have a bachelor's degree at a minimum. You edit documents in your own areas of interest and expertise.
Cambridge Proofreading gets very high reviews on review sites from the proofreaders who work there.
Pay is $20-$30/hour USD, paid every two weeks via PayPal.
Proofreading Services hires part-time and full-time remote proofreaders from any country.
Pay is $19 to $46 per hour USD depending on the turnaround time; the highest pay is for the most urgent deadlines.
You can start applying right away by taking their 20-minute preliminary test.
With EditFast you could proofread novels, textbooks, contracts, letters, reports, business and technical documents. You need to take an editing test as part of the application.
They pay 40% of the contract price to the proofreader through PayPal.
Scribbr specializes in academic proofreading and is rated highly on Trustpilot.
Remote proofreading jobs on Scribbr require a bachelor's degree, and a commitment of at least 10 hours a week.
Pay is approximately $21-$27 USD per hour, and proofreaders are paid twice a month.
eCorrector specializes in remote proofreading for scientists by scientists, so get that PhD out if you want to apply to this company.
They don't list specifics about proofreading jobs on their website but do accept applications regularly; send them your CV and information about your proofreading experience.
Gramlee is always accepting applications from proofreaders; you have to fill out an online Google doc with a couple pages of questions.
They don't disclose specifics on the jobs or what their rate of pay is but say they will be in touch if they are interested in hiring you based on the application you fill out.
WordsRU offers a big variety of remote proofreading jobs.
Some of the proofreading jobs that are available are: book editing, thesis editing, research papers, newsletter editing, advertising copy, journal article editing, biography and autobiography editing, and many more categories depending on your interests and skills.
You need 2+ years of proofreading experience plus a Master's degree or equivalent professional experience.
Remote proofreading jobs at Prompt center on providing editing help for college students, for AP exams with essays and college admission essays.
The pay for proofreading of AP essays is $25-$28 an hour.
With remote proofreading jobs at Lifetips, you will edit the content produced by freelance writers assigned to projects. Salary plus full medical benefits included.
If you have any other ideas where you can find remote proofreading jobs, please leave them in the comments below.
Sign up for this FREE proofreading workshop to see if remote proofreading is the right career for you.
⇓ Pin this post to save it for later ⇓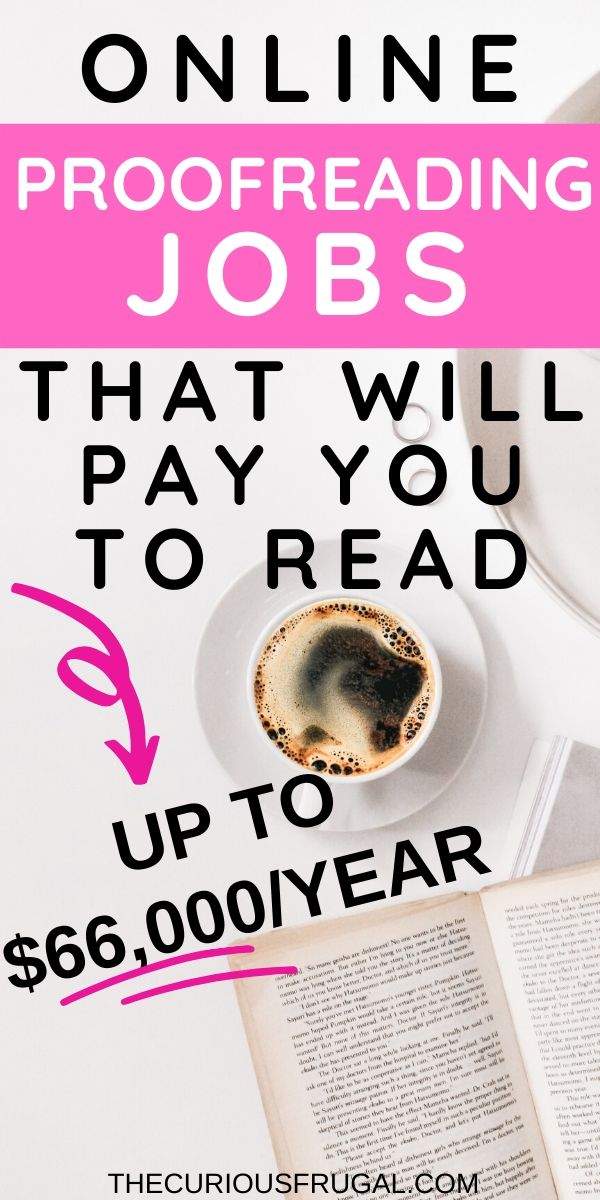 Check out these remote proofreading jobs today!