I am in love with this ridiculously easy focaccia bread recipe! This is a simple, homemade bread recipe that takes 5 minutes to mix together and is total comfort food. This is the bread recipe I make most often these days: it's so easy and so good. Serve this focaccia with soup, as a side of pasta, or build a sandwich with it!
Focaccia bread
I always think of focaccia as the perfect bread for dipping or dunking into soups or sauces, soaking up flavored oils, as a vehicle for getting those last bits of yummy goodies on your plate into your mouth.
And while this focaccia bread absolutely does all that, this focaccia recipe is so delicious that you will want to stack your plate with fluffy, soft yet crusty, slices instead of whatever the main course is.
This focaccia bread recipe is seriously that good.
My faster no-knead bread recipe is usually my favorite bread recipe, but this focaccia recipe just might have bumped it out of first position.
(This whole wheat olive loaf is also really delicious!)
This post may contain affiliate links. Please read my disclosure for more info.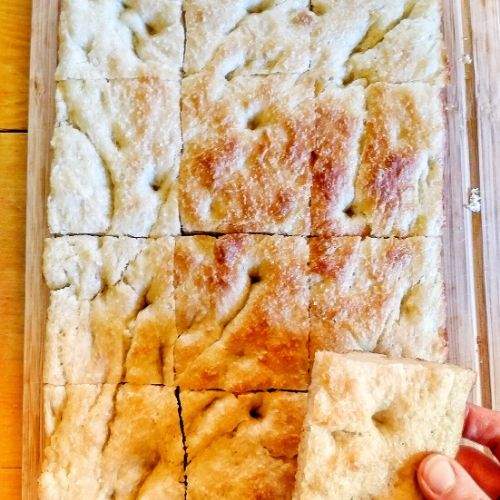 5-Ingredient focaccia recipe
You only need these 5 basic ingredients to make the most delicious focaccia bread!
Flour
Olive oil
Sugar (feeds the yeast – nom nom)
Salt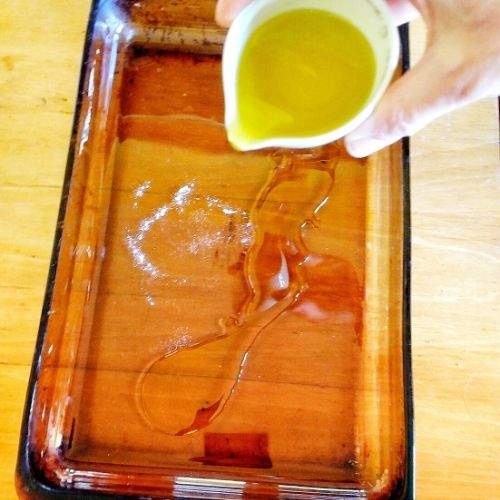 If you are struggling with meal planning, you can get the $5 meal plan. Each week you are emailed a meal plan and shopping list for meals, snacks, and desserts. It completely takes the stress and guesswork out of meal planning and will save you time and money. You can have a free 14-day trial here. (there's a gluten-free meal plan option too!)
This focaccia recipe would go really well with one of these delicious and easy chicken recipes. Those recipes use shortcuts to make inexpensive and fast dinners that are perfect for weeknights.
If you are new to breadmaking, check out these tips for making your own bread – 5 common mistakes to avoid
Let's make focaccia!
Easy Focaccia Recipe (No-Knead!)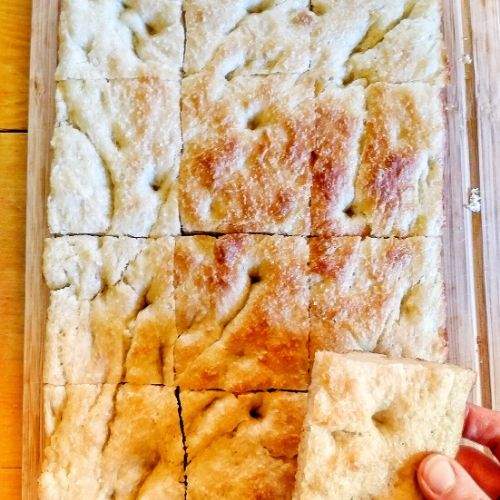 This easy focaccia recipe takes 5 minutes to mix together and is total comfort food. Serve this focaccia bread with soup, as a side of pasta, or build a sandwich with it!
Total Time
2 hours
25 minutes
Ingredients
2 ½ cups all-purpose or bread flour
¼ cup olive oil, divided
1 cup warm water, not hot
2 ¼ tsp instant yeast
1 tbsp sugar
½ tsp sea salt, + more for sprinkling on top
Instructions
In a mixing bowl, measure out the flour, yeast, sugar, and ½ tsp salt.
Pour in 2 tablespoons of olive oil and the 1 cup of warm water.
If you're using an electric mixer, use the dough hook attachment, and mix on medium speed just until the dough comes together (a minute).
If you're making this focaccia recipe by hand, stir until everything comes together or use your hands until dough is smooth (only a minute - you don't need to knead this).
Cover the bowl of dough with saran and let the dough rest for ~1 hour until doubled in size.
Spread 1 tablespoon of olive oil into a 9x13" baking pan.
Stretch the dough out until it fills the whole baking pan, cover with saran and let rise for 1 hour.
Near the end of the hour, preheat your oven to 425 F.
When the hour is up, remove the plastic wrap, and use your fingers to poke dimples in the dough.
Drizzle the last tablespoon of olive oil over the focaccia dough, and sprinkle the top with sea salt.
Bakeat 425 F for 15-20 minutes or until golden brown on top.
My oven took 17 minutes but check after 15 minutes because ovens vary and it depends on the pan you're using as well.
Remove from the pan, cut into 12 pieces, and devour this amazing focaccia bread.
Nutrition Information:
Serving Size:
1 grams
Amount Per Serving:
Unsaturated Fat:

0g
Try one of these easy soups with this focaccia bread recipe:
And for another easy bread recipe, try these 20-minute pumpkin bagels (they really take 20 minutes from start to baked!)
⇓ Pin this focaccia recipe to save it for later ⇓
I hope you love this focaccia recipe!