This is an awesome Dollar Tree haul for traveling with kids! These travel activities for kids can help keep your kids entertained in cars or planes for hours, all for under $10 total. Frugal win!
Dollar Tree haul of travel activities for kids
We just got back from a 30 hour round-trip road trip with our preschooler. My husband had meetings in the Rocky Mountains and Miss O and I came along for the trip.
Since she was born, we have traveled a lot with our tiny tornado. I have been pleasantly surprised at how much I love traveling with a little kid.
I am more of a wing-it person than a planner but when you're traveling with kids you learn fast that there are times you need to go against your nature. For the peace and harmony of all beings in the car (or plane).
While I'm all for lots of outdoor exploring and natural toys, there is a time and place. I'm not going to give her a bunch of rocks and sticks to play with while we're driving.
A few new travel toys and snacks are a must to keep her happy. And if she's happy we all have better travel days.
Dollar Tree is a great source of travel activities for kids. It's so inexpensive, and the selection of Dollar Tree kids toys just keeps growing.
Related family travel posts:
This post may contain affiliate links. Please read my disclosure for more info.
Dollar Tree Haul – Let's Look At The Goods
Though I'm learning to plan more than I really want, I went shopping for Dollar Tree kids travel toys the day before we were set to leave.
Parenthood hasn't completely changed me yet!!
For those of you who don't have a Dollar Tree nearby or prefer shopping online, I'm going to link up to Amazon versions of the travel toys and books. In some cases I was able to find the exact same toy selling on Amazon. For some travel activities I linked to the closest thing I could find online.
Okay, here is the Dollar Tree haul:
A reusable water coloring book, these are a HUGE hit with kids for traveling. No markers, no paint, no mess, and the pictures can be painted over and over.
Water reveal books are a must-have for travel with kids. I couldn't find this exact one on Amazon but these water color books are very popular (we have several of them too). I love that they are reusable.
I was surprised at how long my daughter played with this activity book for while we were driving.
I thought she would do a quick scribble on each page and then proclaim she was done (this often happens with coloring).
It comes with a special marker and the pages easily wipe clean with a dry paper towel or cloth so the pages can be reused. The marker is tied to the book so it doesn't get lost. We found the string was too short and Miss O was getting frustrated so we just took it off the string.
This is a unique painting book for kids. Each page has a small palette of color at the top so you just dip the paintbrush (it's included) into water and use the paint for each page. It's really cute and MUCH neater than bringing paints.
We bought this kid's painting book for our road trip, but it would work better in an airplane.
While this floor puzzle is giant and was never intended to be for the journey, it was EXCELLENT for the destination. Having a new puzzle to play with in hotel rooms (after exploring and playing with the tiny fridge, ice bucket, and microwave in each room), ended up being a great travel activity for kids.
The other reason I LOVE large floor puzzles for traveling with kids, is you are much less likely to lose puzzle pieces since they're so large.
Okay here me out on this one. Kinetic sand is not meant for the car or plane (the flight attendants would so not be impressed) but just like the floor puzzle is great when you get to your destination.
Kinetic sand is one of those simple sensory activities that can entertain kids for hours and can come in handy in hotel rooms. This kinetic sand set in particular comes with a tray and storage box to keep things tidier.
We took this simple look and find book with us for the long car ride. Miss O is too young to read and sometimes gets frustrated if she has books and nobody to read them to her in the back seat (if her "staff" are in the front).
The look and find book worked well because it was a book that gave her something to do, and had some words but that wasn't the main point of the book.
I bought this Dollar Tree book to have a new (inexpensive) book for hotel reading before bed.
This book in particular was apropos because Miss O was going to her first ever formal dinner/fancy ball with us on the trip. The Dollar Tree book came with a little bracelet too which she loved.
How Much Did I Spend On This Dollar Tree Haul?
All of these Dollar Tree books and toys came to under $10!
We actually came home with one of the toys unopened. She had enough variety so we didn't need to give her everything on this trip.
There are absolutely times I choose to spend more on higher quality toys. But when we're already spending money on travel, sometimes I just want to spend a few dollars on travel toys.
This Dollar Tree haul was a HUGE hit with Miss O and kept her entertained for our long road trip, and in the hotels and cabin too.
For more awesome toys, check out these wooden toys for kids – many are fantastic for road trips and other travel!
⇓ Pin this post to save it for later ⇓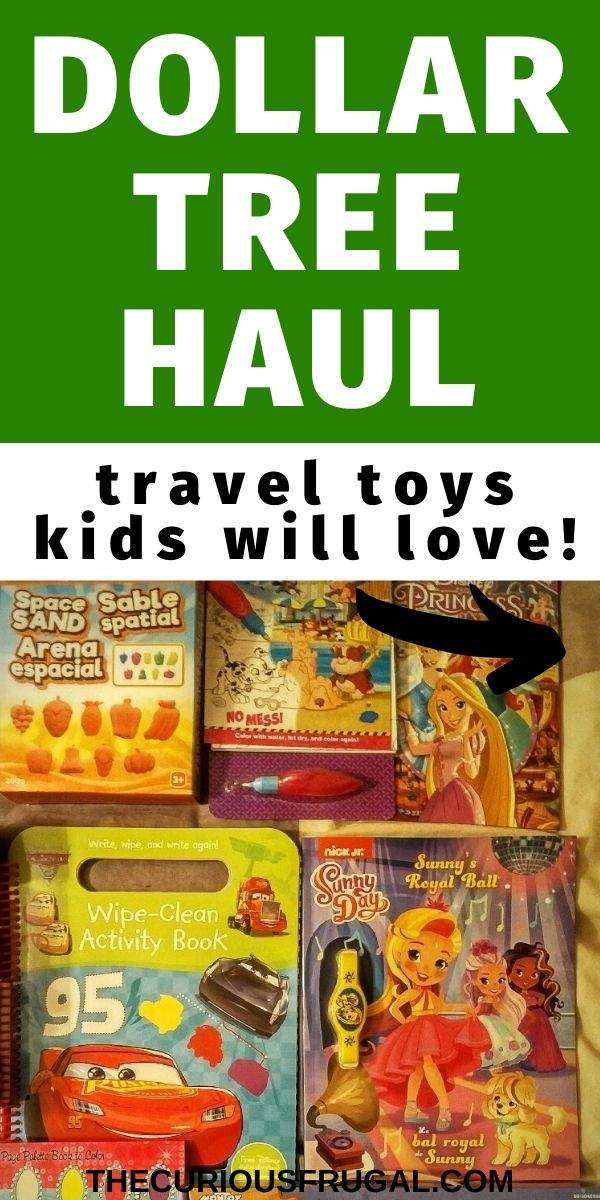 What's your favorite thing from this travel Dollar Tree haul?