Are you a beginner to investing? Don't put your hard-earned money just anywhere! Read about investing with a robo-advisor vs financial advisor – and which is best for your money.
This post may contain affiliate links. Please read my disclosure for more info.
Robo-advisors vs financial advisors
I normally like to write long posts because I want to be as helpful as possible for you on whatever topic I'm writing about.
Today I want to share a quick comparison of robo-advisors vs financial advisors. Not because there's not a lot to say on the topic – there is! But because sometimes you want to learn about money (or parenting or whatever) in more bite-sized pieces.
So let's get to it and have a quickie! A quick investing post, that is.
Investing with a robo-advisor vs financial advisor
Let's talk for a minute about different ways you can invest.
Yup, it's still okay to invest even during a pandemic.
Nothing rash, nothing risky, but good old boring, mainly passive, investing.
(If you have a ton of debt or no savings, I would personally work on that first.)
You can DIY invest, use a robo-advisor (very simple explanation: an app with algorithms that analyze your money and give advice), or a human investment advisor.
One of the main reasons people might not want to use a human investment advisor are the fees. There are different types of fee structures such as percentage (often between 1-2%), hourly rate ($200-$400/hour), flat fee, and retainer for services.
Average robo-advisor fees on the other hand are 0.25%/year. That's a big difference! Some financial advisors won't take on clients with less than $250,000, so this could be prohibitive for many people.
For all the details about robo-advisors, check out a review of the best robo-advisors for investing
My financial advisor experience
When I reached over a certain amount of money in investments, my bank called me and offered me their financial advisor for free. I met with him a couple times but ultimately decided it wasn't for me.
I looked at the typical returns he had for his clients, and compared them to the average returns I yielded myself with my portfolio and his were no better. I prefer knowing where my money is going, enjoy learning about investing, and did not want a big chunk of my money transferred to higher interest rate mutual funds.
What about DIY investing
We live in a GREAT time for DIY investing!
From robo-advisors to financial planning apps, there are lots of options to save money while investing. And doing it this way helps you learn about investing too, which is fun, right!?? (#moneygeekhere)
If you have lots of money, don't mind paying extra in fees, and prefer being hands-off with your money, then an investment advisor might make sense for you. For other people, I would recommend learning more about your money and how to invest (and often the simplest ways to invest are the best), and save on the investment advisor fees.
Read this for 5 smart investing tips for beginners.
Something between a robo-advisor and an investment advisor
You might have heard about Personal Capital here or elsewhere and sometimes it's mentioned as being a robo-advisor. It's not, exactly. It's a hybrid that works like a robo-advisor with live support from human financial advisors for a more personal touch.
Here's a screenshot from their dashboard to get an idea of what it looks like (and no that's not my account!)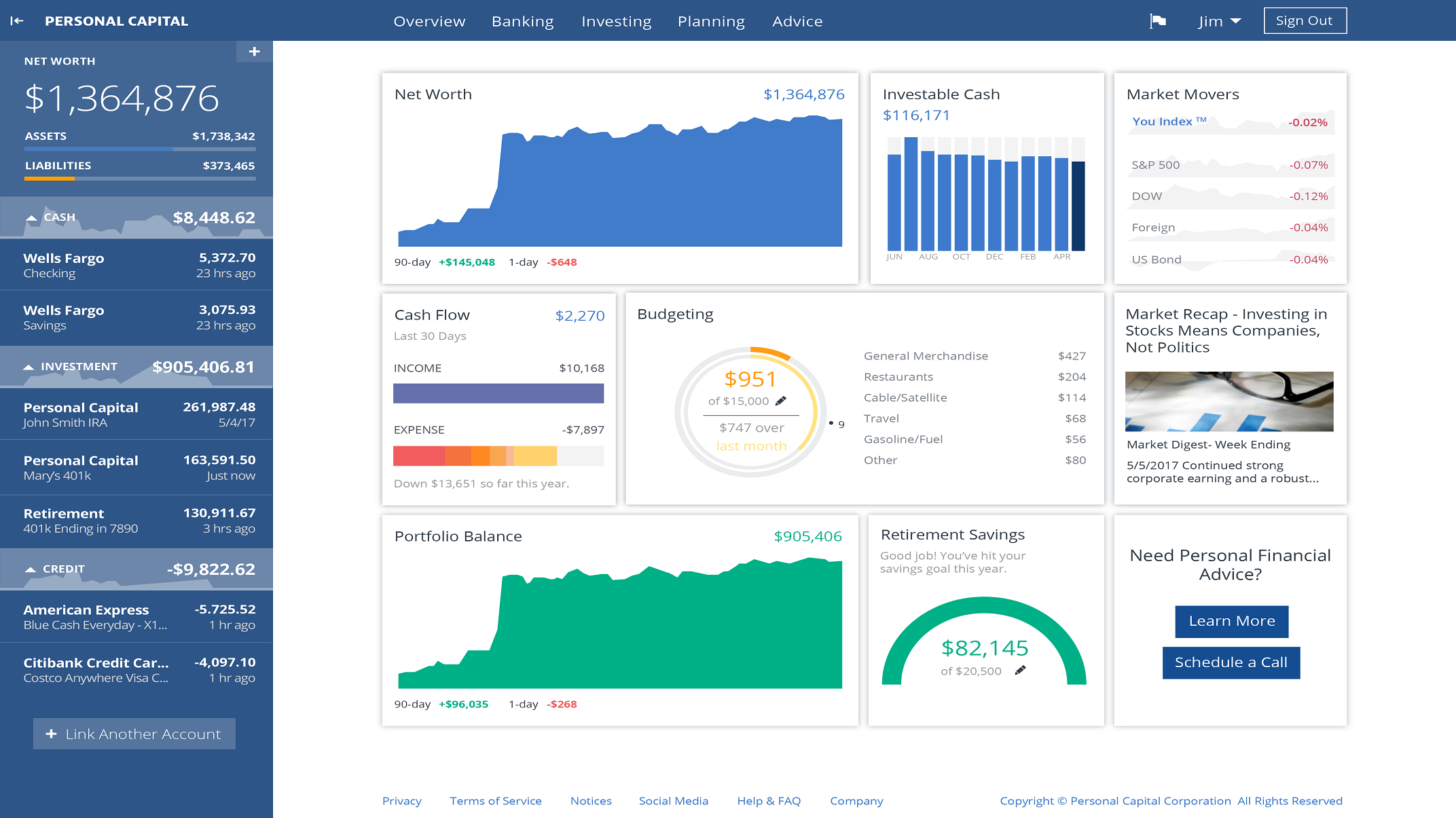 You can check out Personal Capital here to see how it can help manage your money.
⇓ Pin this post to save it for when you're ready to invest ⇓
What are your thoughts on using a robo-advisor vs financial advisor?