If you want a very easy cookie recipe including the sunshiny flavor of lemon, these Meyer lemon shortbread cookies are for you! I love making lemon custard and lemon tarts, but sometimes I want a simple recipe with only a handful of ingredients. This lemon shortbread recipe has four ingredients, and the bright lemon flavor is a perfect complement to the flaky, buttery shortbread.
This post may contain affiliate links. Please read my disclosure for more info.
My husband and I and Squish live in a walkable neighborhood, in a city that is very much made for cars. The city is spread out onto the flat prairie landscape. If you don't have the privilege of having a car to get around, your commute by public transit (there are only buses) can be long with multiple transfers. That's why I feel extra grateful for our neighborhood – it really is an anomaly here.
Within a couple of blocks, we have restaurants, cafes, a theater, a library, and a grocery store. It is a full grocery store, not a corner store, but it's small since it's set right into a residential neighborhood. They have all the basics that we need and I'm there often, now with my little helper. A couple times a month we drive to a bigger store to stock up on other essentials for the house.
Related content:
Since our neighborhood store is little, they don't always have everything I would want to eat or experiment with. A few years ago I got very into plantains and they didn't carry them. The great thing about this store is they're open to stocking new things if customers are interested. I talked with the produce manager back then to see if they would be open to carrying plantains. They tried them out and now they're a regular fixture in the store.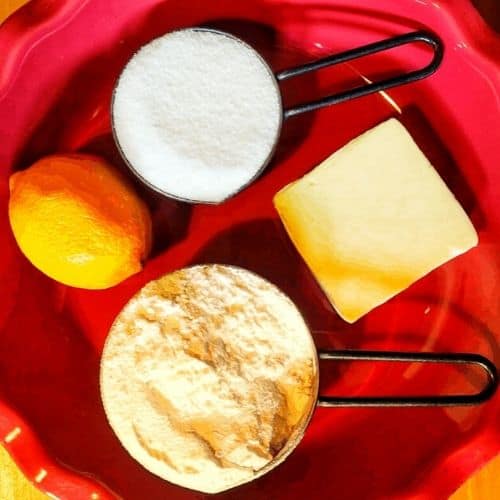 Why am I talking about plantains when this is a lemon recipe? Let's get back to the lemons! On my last trip to the store I was browsing the produce and I came across a bag of Meyer lemons. My tiny store only usually carries the regular pale yellow, very tart lemons. Those are good too but Meyer lemons, people, are on a whole other level! If you've never tried them before, they are sweeter and darker than a regular lemon. The color of an egg yolk and tastes somewhere between a lemon and a mandarin orange – they are delicious.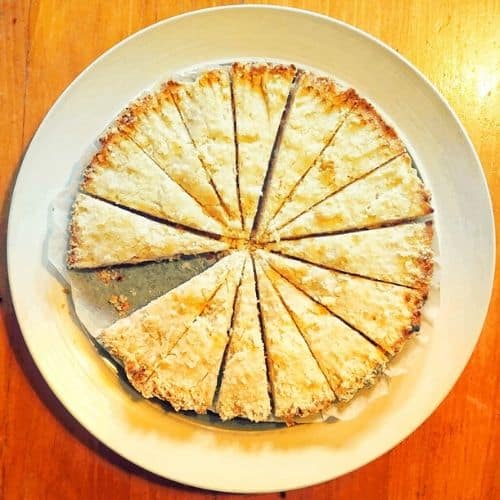 If you don't have Meyer lemons, you can absolutely use a regular lemon. Don't skip out on the zest as it gives a lot of the lemon flavor to this recipe. I use this to grate the zest. Many years ago before I started my bakery I watched The Food Network all the time. I considered it research for my soon-to-be business. The bakers and chefs seemed to have the same kitchen tool – a fine grater/rasp for grating lemons, oranges, fresh nutmeg, and on the savory side for grated garlic and ginger. I bought one and love it and use it all the time. I like it more than a regular grater as it only grates the flavorful yellow part of the rind, and doesn't go into the bitter white part. If you don't have a rasp, you can use a grater but just don't go down too deep into the fruit.
Other recipes to try:
I usually use organic cane sugar and sometimes coconut sugar but I ran out of both and had a perfectly ripe Meyer lemon calling to me to use it that morning. I had a small bag of plain white sugar which did the job, but use any granular sugar you like.
Are you ready to bake? It only takes five minutes of active prep in the kitchen, so let's do this!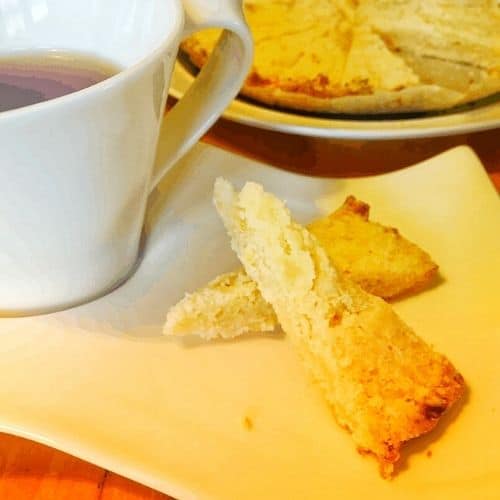 Yield: 16 cookies
Meyer lemon shortbread cookies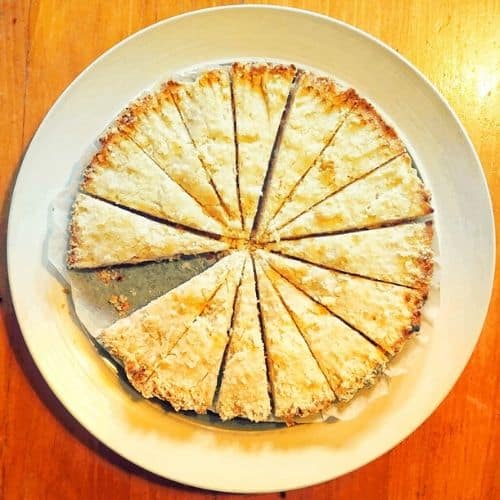 If you want a very easy recipe that includes the sunshiny flavor of lemon, these Meyer lemon shortbread cookies are for you! This simple recipe has only four ingredients, and the bright lemon flavor is a perfect complement to the flaky, buttery shortbread.
Ingredients
1 1/2 cups unbleached all-purpose flour
1/2 cup granulated sugar
1/2 cup butter (=1 stick), cut into cubes
1 Meyer lemon, zest and juice, juice will be ~ 2 tbsp
Instructions
Spray or butter a 9" pie plate. Cut out a piece of parchment and line the pie plate.
You can make this one of two ways (both ways are easy, one is noisy). If you have a food processor (like this), add the flour, sugar, and butter and pulse around 20 times. Alternatively you could blend it for 10 seconds in the processor. Stop, then add the lemon zest and juice. Pulse a few more times until it's all mixed together. It should look a bit wet at this point.
If you don't have a food processor or don't want to wash one, you can use a pastry cutter like this. I often use this instead if I bake during nap time because it's the quiet option and we live in a small house. It's more of an arm workout but that's not necessarily a bad thing. In this case, put the flour, sugar, and butter into a bowl and use the pastry cutter to mix everything together. The butter should be in teeny pieces by the time you're done and the dough should look slightly wet. Add the lemon zest and juice and use the pastry cutter briefly to mix them in so it's uniform.
In either case, dump out the dough (it will just look like crumbly bits at this point) into your prepared pie plate. Press very firmly into the parchment-lined dish. Really press it down. This will help it hold together and will cut nicely for you after it's baked.
Put the pie plate with the shortbread dough in the freezer for 20 minutes. This chills the dough so it doesn't puff up as much while it's baking and keeps its shape. While the dough is chilling, preheat the oven to 350F.
After the chill time, remove the pie plate from the freezer and prick the dough all over with a fork. Bake at 350F for ~35 minutes, until it starts to lightly brown.
When you take it from the oven, immediately cut it into 16 wedges while it's still hot. This will making slicing it much easier before it firms up more. Let it cool completely in the dish, then remove and devour. Or bite daintily. Whichever.
Notes
You can use other flour in place of the unbleached all-purpose flour. You can use whole wheat flour, white whole wheat flour, or a gluten-free all-purpose flour mix. Coconut flour and almond flour will not work well in this recipe.
I have tried making this with vegan Earth Balance buttery spread and it works well (and is the only sub you need to make the recipe vegan!). I haven't tried with coconut oil. It would have to be solid and I'm not sure that it would produce the same flaky texture in the shortbread. If someone does try with coconut oil, I'd love to hear how it turns out.
Nutrition Information:
Yield:
16
Serving Size:
1 grams
Amount Per Serving:
Unsaturated Fat:

0g
——> Save this post for later!