If you think making homemade lasagna sounds delicious but daunting (I did!), you will want to try this easy meat lasagna recipe. It is quick to put together, and way more delicious than buying pre-made lasagna.
This post may contain affiliate links. Please read my disclosure for more info.
Each year for my husband's birthday, I ask him what he would like for his birthday dinner. I am always interested to see what he will come up with, and I love cooking pretty much anything from scratch. Except lasagna. I like lasagna in general and will order it in restaurants but it always feels so labor intensive so I just never make it at home. Guess what he asked for this year? Yup, lasagna.
I didn't want to tell him it's my least favorite dish to make because this was what he wanted for his birthday. If he knew my feelings about making lasagna, he would change his order and I wanted to make his first choice meal, not his second.
So I got to work on figuring out an easy lasagna recipe that was simpler, with shorter prep work, and frugal ingredients. I subbed out the usual ricotta for cottage cheese. It provides a great flavor in the lasagna, but is much less expensive than ricotta, and higher in protein too!
Related post: Easy Brie and Spinach Quiche
Super easy lasagna recipe
Let's talk about the shortcuts in this recipe. We use jarred spaghetti sauce instead of making it from scratch (gasp!) and we use oven-ready lasagna noodles. This step is so important. In the past when I've made lasagna, I bought the regular noodles and I found that extra boiling step along with everything else so tedious. These no-boil noodles go straight from the box to the baking dish – easy.
Related post: 10 Cheap Meal Ideas That You'll Want to Make Again and Again.
To save time, you can buy the pre-shredded mozzarella and grated parmesan. To save money though, buy the blocks and grate them yourself. We're only using one cup of grated mozzarella because this is absolutely cheesy enough, it saves money, and huge gobs of cheese on the top are just too chewy for me. If you like a super thick cheese layer on the top of your lasagna, you can double the amount of grated mozzarella.
I'm a full-fat kind of girl, so I go for full fat cottage cheese, regular ground beef, and full fat mozzarella. I even go for full-fat baby spinach. It tastes so much better than the other kind.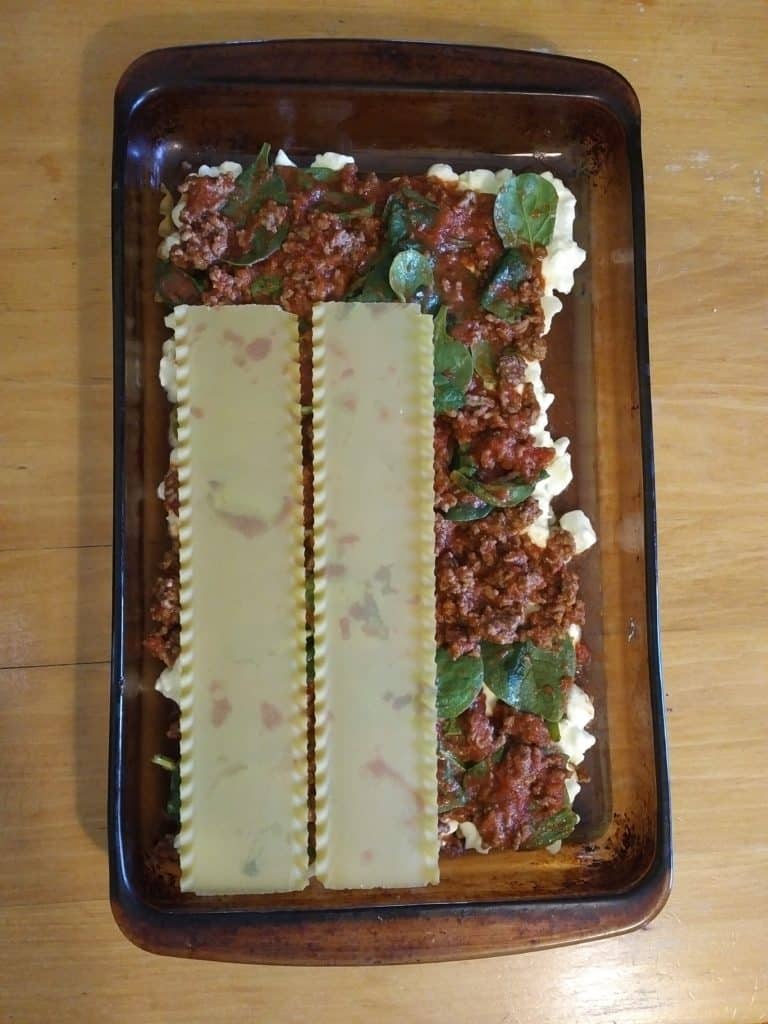 Yield: 8 servings
Easy meat lasagna recipe
Total Time
1 hour
30 minutes
Ingredients
1 tbsp butter or oil
1 lb humanely-raised ground beef
4 cups spaghetti sauce
2 handfuls fresh baby spinach, around 1 packed cup of baby spinach
3 cups cottage cheese
2 free-range eggs
1/4 cup grated or shaved Parmesan cheese
12 lasagna noodles, the oven-ready kind
1/4 cup water
1 cup shredded mozzarella
Instructions
Heat the butter or oil in a large skillet over medium heat. Add the ground beef and cook, stirring, until all the pink is gone. Drain. I like to use a slotted spoon to remove the cooked beef and put it into a bowl. Add three cups of the spaghetti sauce (saving the last cup of sauce) and all the baby spinach. Stir this all together an put this bowl aside for now.
At this point preheat your oven to 350F.
In a second bowl, beat the two eggs with a fork or whisk. Add the grated Parmesan and cottage cheese and stir everything together well. This is your cheese layer. Don't put the mozzarella in this bowl; we will save it for a later step.
Spread a thin layer of sauce in a 9x13" rectangle pan. Arrange four uncooked lasagna noodles on top of the sauce so the noodles are close together but not overlapping. Spread half of the cheese mixture so that it covers all the noodles. Spoon out the meat sauce on top of the cheese layer. Use the back of the spoon to spread it out. Take four more lasagna noodles and press them slightly into the sauce layer you just added. Add the rest of the cheese mixture, spread it out over the noodles, another sauce layer, and your final four noodles. Add the final cup of spaghetti sauce to the top layer of noodles, making sure you cover all the noodles with the sauce. This will make sure they cook well since we didn't boil them first.
Pour the ¼ cup water down the inside edge of the dish. Cover the dish with tin foil or a lid.
Bake at 350F for 45 minutes. Remove the tin foil or lid and sprinkle with all the grated mozzarella. Put back in the oven and bake for another 15 minutes, until the cheese on top is browned and bubbly.
Wait a few minutes before cutting into it if you can. This will be difficult; it's going to smell delicious.
Notes
For the spaghetti sauce, I used a jarred organic version – use whichever one you like best.
Nutrition Information:
Yield:
8
Serving Size:
1 grams
Amount Per Serving:
Unsaturated Fat:

0g
This lasagna went over very well at my husband's birthday dinner. So well that I think I will have to make lasagna again. But now that I have a super easy lasagna recipe, I don't mind at all.
Dessert recipe ideas:
——> Pin this to save this recipe for later!
Is there a dish that you love to eat but not to make? Have you figured out an easier version for yourself like I did with this easy meat lasagna recipe?