If you are looking to switch from a traditional mutual fund RESP to TD e-Series index funds, this post will walk you through the steps to do exactly that!
Setting up an RESP for your child
When our daughter was born two years ago, I knew that I wanted to set up an RESP for her right away. I gave myself three months for that intense initial sleep-deprivation fog to lift (that fourth trimester is a beast!) and then I set up a meeting at the bank, without baby in tow (or more likely on boob) so I could focus. I believe one of my first excursions for an hour or so without baby was not to get coffee by myself or get a massage; it was to the bank to set up an RESP. That might sound boring to some but the idea of getting started quickly and the power of compounding interest excites me. What can I say, I can be a financial weirdo.
I went to my local TD branch and met with an advisor. He led me through their customer investor profile questionnaire. I am usually comfortable with a higher level of risk, but my tolerance for risk definitely went down in those initial postpartum months. I set up a mutual fund RESP, made an initial deposit (purchase) into the account, and then set up a monthly pre-authorized purchase plan (PPP). Done, great, and I didn't think much more about it for another year.
Converting an RESP to TD e-series
When that initial squishy newborn neediness morphed into a slightly more independent walking little human, I noticed that I had more free time. Not a lot, but it was there. This free time lead to thinking about several areas of our finances that I wanted to improve. First up was her RESP.
I was interested in switching from a more actively managed bank mutual fund to the TD e-series index funds. I wanted funds that would track the index of Canadian, U.S., and global markets. The original mutual fund we had set up for her was the TD Comfort Balanced Portfolio (TDB886).
MERs of TD Mutual Funds
For comparison here is a table that shows the Management Expense Ratio (MER) for this mutual fund and the e-series index funds we wanted to switch to:
| | |
| --- | --- |
| TD Mutual Fund and code | Management Expense Ratio (MER) |
| TD Comfort Balanced Portfolio (TDB886) | 1.91% |
| TD Canadian Index Fund e-Series (TDB900) | 0.33% |
| TD U.S. Index Fund e-Series (TDB902) | 0.35% |
| TD International Index Fund e-Series (TDB911) | 0.51% |
There is a dramatic difference in the amount of money that is going to fund managers instead of to your child's account from the more actively managed mutual fund versus the e-Series index funds. Over time, possibly up to a couple of decades before your child needs to withdraw money for school, this difference could be large.
This post may contain affiliate links. Please read my disclosure for more info.
Passive investing with index funds
Although it is more fun to always see investment accounts increase over time, I am not someone who checks accounts daily or stresses (too much) when an account/index/fund decreases. There will be inevitable dips, some more dramatic than others and the best thing to do is to hang tight and trust that over time overall the markets always go up. Individual stocks definitely might not but that is why a good choice can be index funds.
Although it does take some effort to set up, once you have the RESP structure in place, just keep contributing money, re-balance as necessary, ignore inevitable fluctuations, and over time watch the money grow. This is considered a passive form of investing. For a lot more information you can refer to the Canadian Couch Potato. He has one of the tops sites in the index investing world and is worth checking out.
Because our daughter is still so young, we have a lot of years before she will need to access the money and are comfortable with a bit more risk. We're going to be more aggressive for a few years and purchase only stock index funds (the three above). When she's around five years old we will add in a regular bond purchase as well. This will be the Canadian Bond Index Fund e-Series (TDB909).
That super long introduction was all to explain why we made the switch.
Now how exactly did we go about changing her RESP to TD e-Series index funds?
Before attempting the switch, I read up so much online about different people's experiences. Some people had no issues at all and it seemed fairly straightforward. Others seemed to want to pull their hair out with the hoops they had to jump through and how unnecessarily complicated it was made for them.
I approached this by being prepared for some struggle and complications, but also by expecting the best. Turns out I was one of the lucky ones and it really wasn't bad at all to set up. I will walk you through what I did. We already had a TD mutual fund RESP set up and we wanted to change it to the lower rate passive index tracking e-Series funds.
Note:
If you're interested in the best trading app to buy and sell stocks, mutual funds, ETFs, bonds, and more, I recommend Questrade. Questrade is low-cost and has been around for more than 20 years. You can open registered (RRSP, RESP, etc) and non-registered accounts through Questrade. Start your investment account with $50 in free trades here.
7 easy steps to converting an RESP to TD e-Series index funds
Step 1: Set up an appointment
Make an appointment at your local TD bank to meet with an investment advisor. I didn't have a particular contact in mind when I made the call to book the appointment. Some people advise being vague when asked by customer service what the appointment is for. I intentionally was not vague and was completely upfront about wanting to switch my existing mutual fund account into an e-Series account. My reasoning for being straightforward is I thought it could be possible that they might set me up with someone at that branch who knew how to do this. From my reading, not every TD bank employee does, or has even heard of e-Series accounts.
Step 2: Bring your own application form
Print off this form and bring it with you to your appointment. This is the application and consent form. They absolutely should know what this form is and have it available at your TD branch. But I have read situations where this isn't the case and they have no idea the process to help convert your account. Be prepared and bring your own copy of this form.
Step 3: Come prepared with your ID
Bring your Social Insurance Number (SIN) and another piece of government ID, such as a driver's license, along with you to the meeting.
Step 4: Meet with your advisor and fill out an investor questionnaire
If you haven't recently (within the past year) completed an investor profile questionnaire at TD, expect to do so at your appointment. Luckily I had already gone through the questionnaire only three months prior to this appointment.
Step 5: Fill out the form at the appointment
After filling out the application form and signing a bunch of papers, your advisor will send in the form and you will go home and have a cup of coffee and think that was so much easier than you expected. (Hopefully this is the case for you too!)
Step 6: Wait for 1-2 weeks
You will wait for your application to be processed and within a week or two you will get a confirmation email saying:
We appreciate your business and thank you for your application to convert your TD Mutual Funds account to a TD e-Series Funds account. We have reviewed and approved your application and your account will be converted within 1 business day.
Step 7: Purchase funds
The next day you can start purchasing TD e-Series index funds online.
That's all there is to it! Okay so I had a very easy experience and was lucky to meet with someone who knew exactly what he was doing. There were absolutely no pressure tactics to get me to stay at a higher MER mutual fund. The whole appointment took half an hour. I was honestly shocked at how easy it was after reading and hearing so many horror stories. If this switch is something you want for your own child's RESP account, be persistent. You might have an easy time converting the account like I did and not have to be very persistent. But if you run into a bit more confusion, keep at it. The long term benefits can be worth a bit of initial frustration to set up. And if you find an awesome bank advisor like I did, hold on to them!
Now you can start purchasing e-Series funds for your RESP
Next I will walk you through the online process of purchasing TD e-Series index funds. Even with the above steps completed and the e-Series account set up, the TD website is notorious for lacking in clarity and information about e-Series funds. There will be no obvious portal, buttons or anything like that to show you the new e-Series options.
I will use the TD EasyWeb interface because this is what we use for our daughter's e-Series RESP. You can also set up an e-Series account through TD Direct Investing but I won't go through those steps because I don't have experience going through that channel for e-Series. There is limited information on the TD website about e-Series accounts and some confusing terms that might cause you to waste time when first starting out online. I would have found the following steps useful for my first time.
Steps to purchase TD e-Series index funds online
1. Sign into EasyWeb.
After getting the confirmation email and waiting the one business day, sign in to EasyWeb.
2. On your accounts page, click on your existing mutual fund RESP.
Your access to the e-Series funds will be within this same account! When your account is converted, don't expect to see a new RESP account created or new account number. There will be no new account made. You will access e-Series funds through your existing account, not a new account.
3. On your mutual fund page, you will see your existing regular old mutual fund.
For us that was the TD Comfort Balanced Portfolio. Nothing will look different and you might not know where this new e-Series interface can be found. It might look like your account hasn't been converted yet, but if you have the confirmation email, don't worry, it has.
4. On this page, in the left column under Investments, click on Purchase Mutual Funds.
You will see your current mutual fund holding(s) and now under that you will see the words OR Select a New Fund and under that Fund Category and Fund, each with drop down menus. Hooray!! This is what you want. This means your e-Series access has been set up and this is where you will buy those funds.
5. Under Fund Category, you will have the options:
Money market
Fixed income
Balanced
Canadian equity
US equity
Global equity
Sector
TD mgd portfolios
TD mgd idx portfolios
TD FundSmart mgd port
TD comfort portfolios
TD retirement portfolios
6. Be careful what you click on from the menu.
You might think since we are purchasing index funds that you need to click on TD mgd idx portfolios. No no no! These are not the same as the low MER index funds and will have higher rates.
7. To purchase the Canadian index funds, under Fund Category select Canadian equity.
8. From the Fund drop down menu, I selected TD CDN Index-e**.
This is the low fee e-Series index fund that I purchased in the table above.
9. Click on Purchase New Funds.
10. Everything will already be selected.
The main field on this page that you have to fill out is the Amount. Enter the dollar amount that you would like to purchase and click Next.
11. Verify.
Verify everything and if it is what you want, click I accept. Great! You have your first index fund!
12. Now to purchase US index funds, click on Purchase Mutual Funds.
13. Select US equity for Fund Category, and then TD US Index-e** under Fund.
Click Purchase New Funds. Again fill out the dollar amount you would like to purchase and click Next. Verify and then click I accept. You now have your first shiny new US index funds! Yay!
14. Repeat this a third time for the international index funds.
Select Global equity from the Fund Category drop down list, then TD Int'l Index-e** from the Fund drop down menu. Click on Purchase New Funds. Fill out the Amount you want to purchase, click Next, verify, click I accept.
15. Now you have your three main equity index funds!
This is where I stopped for now as we are not yet adding a bond index fund. When we do we will add the Canadian Bond Index Fund e-Series. To purchase this you would select Fixed Income from Fund Category, then TD CDN Bond Index-e** for the Fund. Purchase as the above steps for the equities.
Benefits of the TD e-Series index funds
You can also set up Pre-Authorized Purchase Plans, aka automating monthly, quarterly, annual purchases to make it even easier and more hands-off.
And by the way, a huge bonus with TD e-Series index funds is that there is no commission to buy or sell. For regular monthly contributions, this makes these funds a great fit. Initial investment amounts only need to be $100 or greater and monthly contributions have a low minimum of $25 per fund per purchase.
There you have it! Those are the steps to first convert your existing TD mutual fund account into an e-Series account, and then the steps to purchase the index funds online. I wanted to do a complete walk-through of the online purchasing in case it is your first time with e-Series. EasyWeb is fairly straightforward in general, but it is not necessarily set up with the comprehensive information you might want when starting to purchase your own index funds. It can feel a bit like a hidden secret on their website and within TD in general.
Final thoughts on setting up an RESP to TD e-Series
I am not qualified to advise you to do exactly what we did, nor would I want to. There is not a one-size fits all approach to investing. You have to do your own research and decide what's best for you and your family and this might change over time. My goal with this post was to take some of the mystery out of the process of converting a TD mutual fund account into an e-Series account and make it simpler for you.
⇓ Pin this post to save it for later ⇓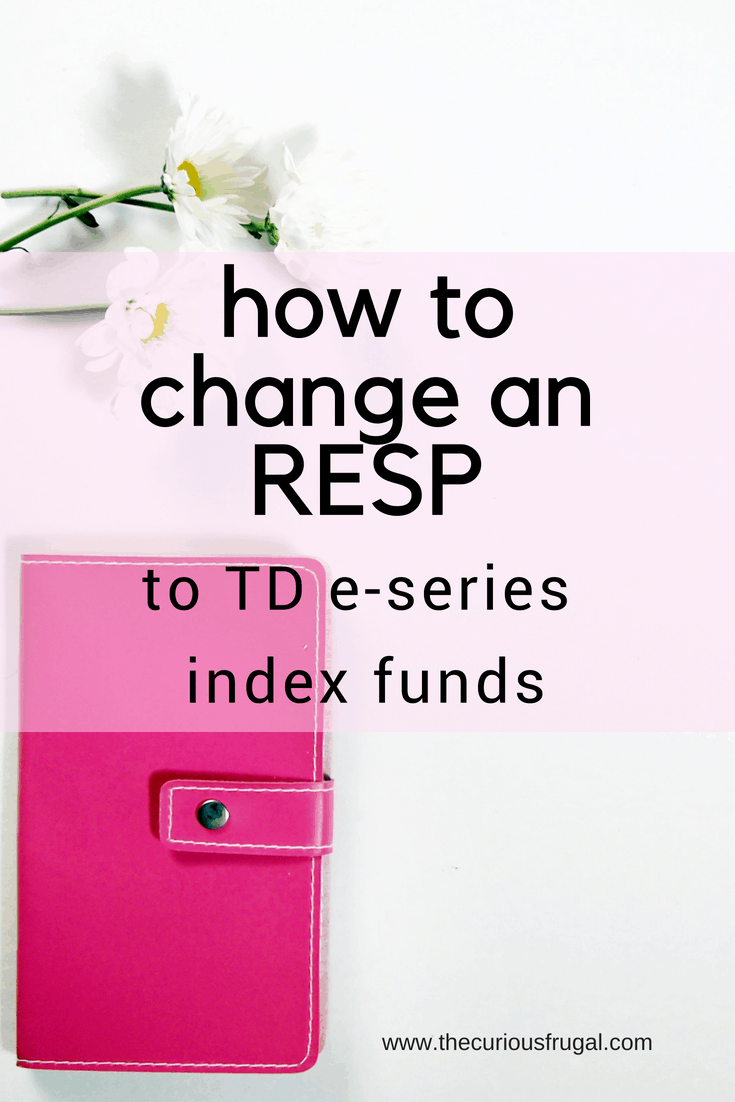 I would love to hear about your experiences with setting up TD e-Series in the comments.